Can Casino Withdrawals be Completed 24/7?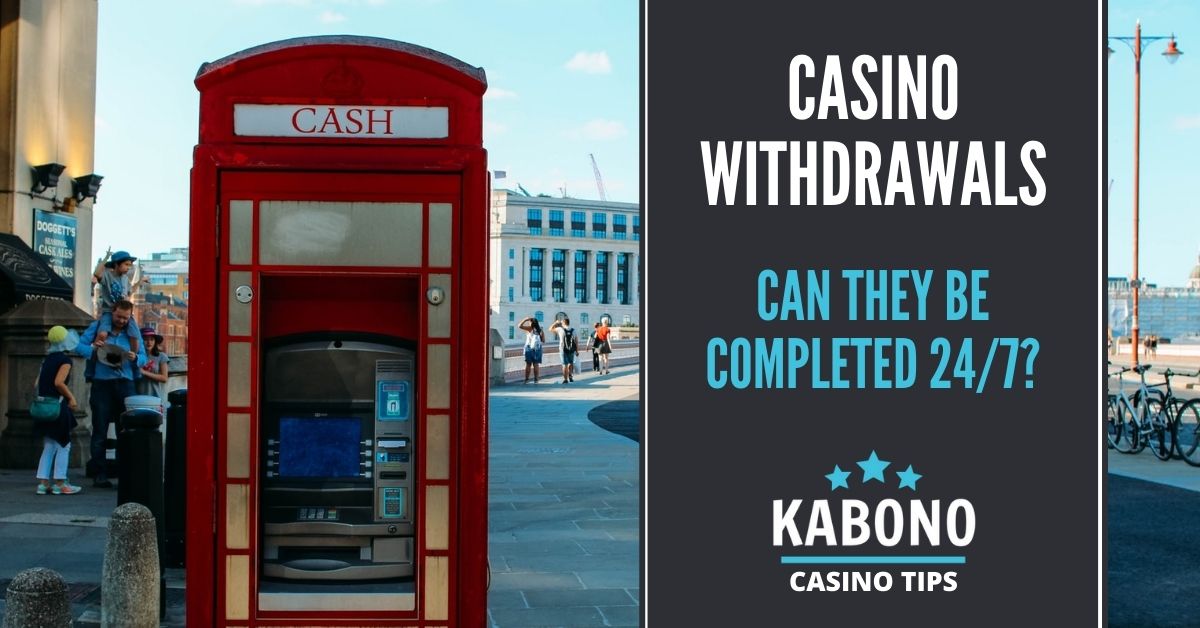 Have you ever needed to withdraw some cash from an ATM late at night or during the weekend? We're sure you haven't stopped to think if the ATM was open or not – it's a given that it is. But what about when you want to cash out money from an online casino? Here we look at and answer the question of: can casino withdrawals be completed 24/7?
Quick Answer: Yes and No
We have to start by stating that this question does not have one straightforward answer. That is because, when it comes to casino withdrawals, there are many factors to consider – which we will cover below. Put simply, there are definitely casinos that process withdrawals 24/7, but far from all will do so.
Factors that Determine 24/7 Casino Withdrawals
Many casinos promote that one of their selling points and major perks is fast withdrawals. That is all well and good, but often they don't disclose a lot of details related to it. It doesn't really matter much that withdrawals are processed quickly if it is only done during business hours, five days a week.
At the same time, it is not all dependent on the casino itself. That is because you also have to consider the payment method(s) involved. So how can you know? Here are some of the factors and questions to keep in mind that can help you determine if casino withdrawals can be processed 24/7 or not.
Is there any information related to cashout times?
The first thing to check is simply if the casino states anywhere that withdrawals are processed 24/7. This can for example be found by looking at a casino's FAQ page or payment information. This is normally found from the footer of the casino website or in your profile (if you have already created an account). Some casinos are very good at listing all information and terms, while others don't share this information openly.
Does the casino have staff working 24/7?
Casino withdrawals aren't normally processed instantly and automatically when you click to request a cashout. That is because there need to be checks in place to ensure the transaction can be made to you. Sure, a lot of it (such as confirming you don't have any pending wagering requirements) can be done automatically by a software. But still, most casinos normally have someone available to deal with any issues that may arise and complete KYC checks etc.
Why is this important? Because it means that, in most cases, a person needs to be working in order for you to get your withdrawal processed. That is why a good indication you can check, is to see if the casino in question offers 24/7 support. If the staff is only working a few hours a day, it is quite likely that cashouts are also only processed during those hours.
Still unsure? Just ask!
If you can't find any clear information that states when withdrawals are processed, the easiest thing to do is simply to ask. While some casinos don't advertise everything openly, they will normally give you a clear and honest answer if you just ask straight.
Don't forget: Which payment method are you using?
It is common to focus on the casino as that is who processes the payment. But it's important to not forget that your chosen payment method is also an important factor. That is because even if a casino processes withdrawals instantly and 24/7, it doesn't automatically mean that your payment method will too.
In general, e-wallets and other online-based payment methods can process payments 24/7. But if you use Visa, Mastercard or traditional bank transfer, the payments might only be processed during the business hours of your bank. This means that the payment method you choose to complete your withdrawal to has a lot to say.
Our best tip is to go for an e-wallet like PayPal or an instant bank transfer with Trustly. The e-wallets Skrill and Neteller are also good choices for instant deposits and withdrawals. But note that these methods are often excluded from bonuses.
Conclusion
Some casinos offer withdrawals 24/7, while others only process them during business hours. So if it is important for you to be able to cash out money at any time, you should check if your casino offers 24/7 withdrawals or not. This can be done by checking the payment information or contacting customer support. Just remember that it is not only dependent on your casino but also on your payment method.