Gambling A-Z: Bonus Terminology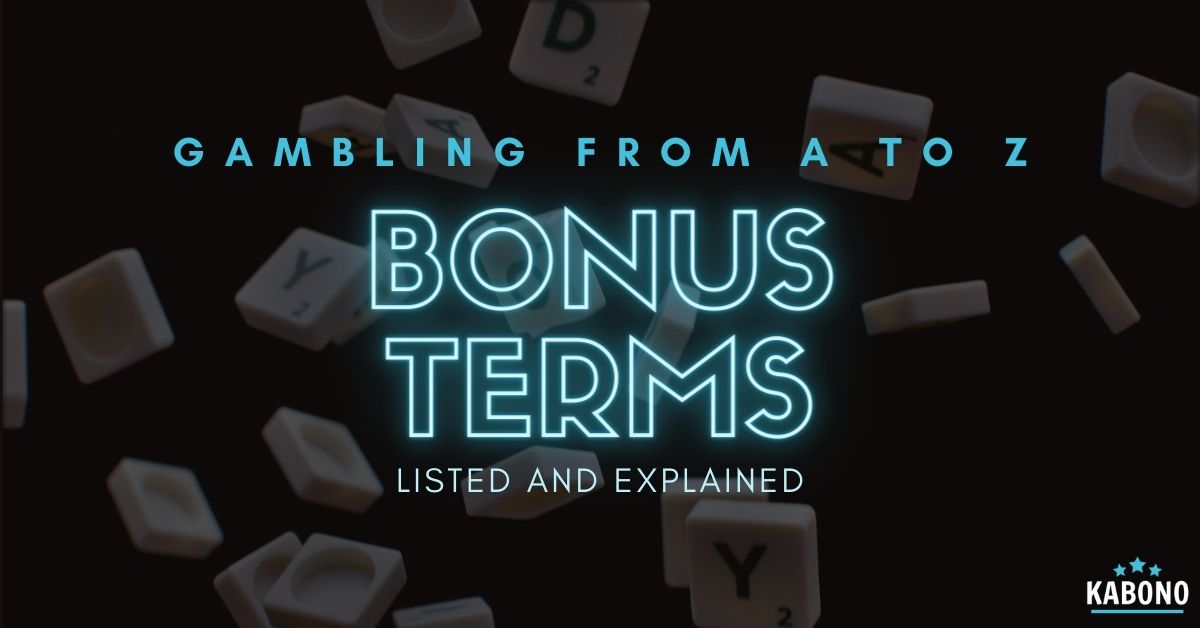 Have you ever come across terms such as "wagering requirement", "no wager free spins", "online casino no deposit bonus" or other casino bonus terminology and wondered what it means and how it all works? Then this guide is for you! Here I go through and explain both common and more unknown gambling terms all related to casino bonuses.
By learning this casino bonus terminology, you will never make the mistake of accepting an unfavourable bonus in the future. So keep reading as I list bonus terminology from A to Z and become a pro!
Common Casino Bonus Jargon & Their Meaning
A
B
Bonus spins: A bonus that offers spins on a slot machine (or another spinning game). They allow you to play the game for free for a certain amount of rounds while being able to score real wins. (Same as: free spins)
Bonus code: A code needed in order to claim a specific bonus. Similar to a coupon code, the code will consist of letters and/or numbers – descriptive or random. Players normally include the code 1) in the cashier when making a deposit or 2) by contacting customer support.
Bonus policy: A casino's terms and conditions related to bonuses. Often each promotion will have its own conditions listed and then a bonus policy is linked with the overall terms of the casino's bonuses.
Birthday bonus: A bonus given as a birthday gift. This can be a bonus you get on your birthday (from the date of birth registered in your account) or to celebrate a birthday/anniversary of the casino.
Bingo bonus: A bonus given for bingo games specifically. For example, it can be cash that it is only possible to spend on bingo games or a certain amount of free rounds of bingo.
C
Cashback: A type of bonus where the casino gives back part of lost wagers. For example, it can be a 10% cashback up to £100. This means that 10% of your deposit (up to a maximum of £1,000) is paid back if it is lost.
D
Deposit bonus: A bonus that is given together with the act of making a deposit. The most typical one is a match bonus where the casino adds additional money to your account in addition to the deposit amount you made. But many other bonuses are also technically deposit bonuses, such as many free spins offers, as they require a deposit to get it.
E
Excluded payment methods: Sometimes the terms and conditions of a bonus will state that deposits made using certain payment methods are not eligible for the bonus. This means that these payment methods are excluded from the bonus offer. Often this includes e-wallets such as Skrill and Neteller.
Exclusive bonus: A bonus that is somehow exclusive – for example only available to selected players or on a game that is exclusive for the casino.
Expiration time: Bonuses don't last forever. Every bonus will come with an expiration time of how long it will be available. This might for example be 24 hours or a week. After this time, the bonus will be lost if it has not been used and played through yet.
F
Free bet: A typical sports bonus offering players free bets to use in the sportsbook. It might for example be a set of free bets worth £10 each, which have to be played as one round (not split up into 10 bets worth £1).
Free spins: A bonus that awards spins that can be used to play a slot game for free, with the chance of winning real money. (Same as bonus spins)
L
Leaderboard: Often casinos host tournaments where players are placed on a leaderboard according to their score/result. A prize pool is then normally divided among the top X players on the board.
Live casino bonus: A bonus that can be used on live casino games exclusively. It can for example be given as chips to use in specific games or a simple deposit bonus where the bonus money only is eligible to use on live dealer titles.
Loyalty program: A type of scheme many casinos offer where players are awarded for their loyalty. Normally the program consists of several levels that players can climb up from being active at the casino. Most loyalty programs are available to all players, while VIP programs are invite-only for the most active players.
M
Match bonus: A bonus where the casino matches a player's deposit amount with a certain percentage, up to a certain amount. A casino might for example offer a 100% match up to £100, meaning that if a player deposits £100, the casino will add £100 in bonus funds and the bankroll will consist of £200 in total. But it can also be 50% or less or 200% or more, all depending on the casino.
Maximum bet: The maximum amount allowed to bet per round while playing with a bonus. This is so that a bonus can not be used to place just one large bet at a high roller table but instead has to be divided into several smaller bets.
Maximum win: The maximum amount players can win when playing a bonus. Some casinos restrict players to win the biggest prizes or jackpots from bonus funds.
Minimum deposit: The minimum amount a player has to deposit in order to receive a bonus. Some bonuses don't require a deposit while others require a minimum of £10 or more in order to "buy" the bonus.
Minimum bet: For some bonuses, there might also be a minimum bet rule in place. This is normally the case for sports bonuses where players have to place a bet of minimum X in order to get or be able to use a free bet.
N
Network tournament: Often the tournaments and promotions offered at a casino are not just offered for the players at that casino, but also at other casinos running on the same network. This means that a prize pool will be split among a large pool of players.
No deposit bonus: A bonus that does not require a minimum deposit in order to get it. Often the bonus is given directly upon signup or otherwise automatically, but sometimes you might have to contact customer support to get it (since it won't be triggered by a deposit).
P
Prize pool: Many casino tournaments and other promotions come with a large prize pool that will be shared among several winners. This can be a local prize pool for the casino in question only, or a shared one for several casinos in the same network.
Promotion: Various competitions, weekly bonuses etc offered at a casino. Normally an online casino will have a promotions page where all active bonuses are listed.
Profit boost: A bonus normally offered for sports betting where players can get extra profits from a win.
R
Referral bonus: Some casinos offer you a bonus if you refer other players to sign up (and make a deposit at) the same casino. This is known as a referral or refer-a-friend bonus.
Registration bonus: A bonus that is given straight upon registration, normally before you even make a deposit.
Reload bonus: A type of bonus normally given to players who have not been active for a while. In order to "reload" the player, additional money is added to their deposit, for example as a 50% match.
S
Sticky bonus: A bonus that can be used to play, but never withdrawn.
T
Tournament: A type of casino promotion where players compete against each other to win top prizes. Tournaments normally require you to do specific actions in a game or get the best score from your bet (for example highest win).
V
Validity period: How long a bonus is valid and available for (same as expiration time).
VIP bonus: A bonus offered to VIP players exclusively.
VIP program: A special loyalty scheme that is normally offered as invite-only. The most active players at a casino can be invited to join the program and receive exclusive perks.
W
Wagering requirement: Bonus terminology that is often found in the terms and conditions of a bonus. This refers to the number of times a bonus has to be wagered (played through) before any potential winnings can be withdrawn.
Wager-free: A bonus that does not have any wagering requirements, is often advertised as wager-free.
Welcome bonus: A bonus that is given to new players to "welcome" them to the casino. Normally this is the biggest bonus a casino offers, in order to get new users to sign up. The casino is often given in correlation with the first deposit made, but can also be a no deposit bonus.
Welcome package: Some casinos do not just offer one bonus, but several bonuses to new players. This is often referred to as a welcome package. A casino might for example give bonuses on a player's first four deposits – not just the very first one.
Basic Casino Bonus Terminology You Have to Know
The 37 terms listed and explained above are a selection of the most widely used casino bonus terminology. But of course, some of the terms are more used than others. So if you are just getting started, these are the absolute must-knows:
Welcome bonus: A type of bonus given to new players in order to welcome them to the casino. The bonus can consist of extra money, free spins or something else depending on the casino. This is generally the biggest bonus offered at any casino.
Free spins: A typical type of casino bonus that offers players the chance to play a slot game for free. By getting a certain amount of game rounds (spins), players can spin the wheels for free while still having the chance to win real money.
Wagering requirement: One of the most typical terms and conditions of casino bonuses. This states how many times a bonus has to be wagered before any winnings can be withdrawn as real money.
Find the Best Deals with our Casino Bonus Terminology
Now that you know more about different casino bonuses and what the jargon used means, you will have a great basis for distinguishing the good from the bad. And luckily we have made it even easier for you, as we only list safe and good options here at Kabono. So check our list of the best casino bonuses for UK players, find your favourite, sign up and enjoy your bonus!