Top 10 Games You Must Try on Online Casinos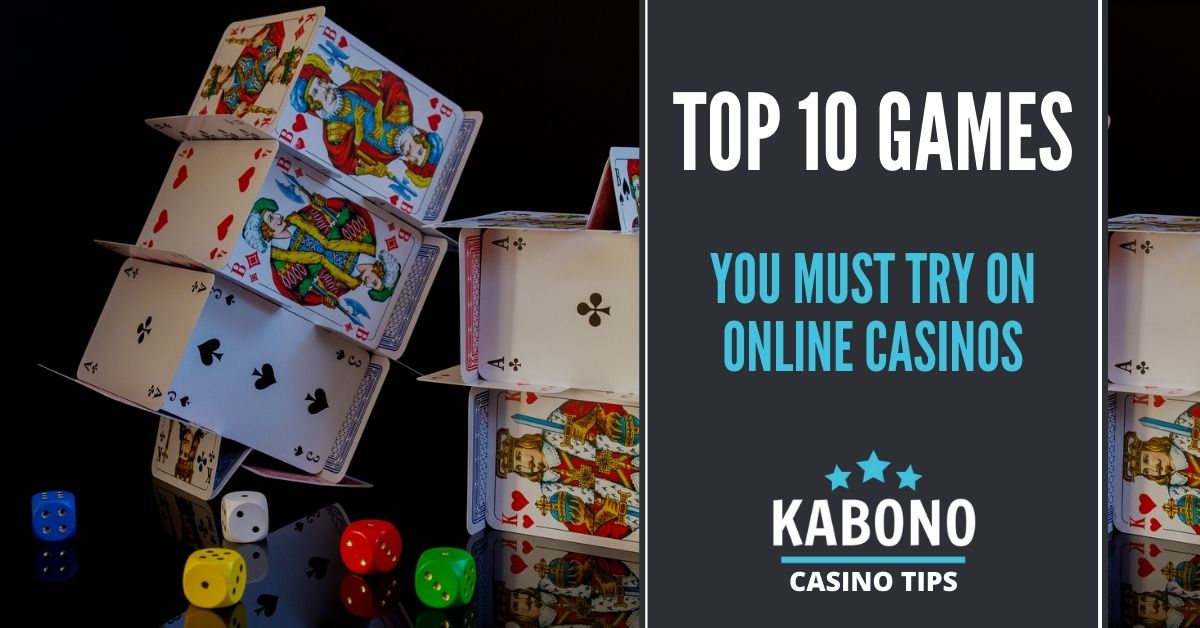 Since there are so many games offered by online casinos, gamblers tend to be confused about which games they should play. Some stick to the games they are used to playing, while others love to explore and try new games to see which one is the best and worth playing. So, Kabono is here to walk you through the 10 best games you must try on online casinos.
1. Slots
Slots are really good for beginners since they are very easy to understand and play. It is usually the go-to game for new gamblers because the game type does not require complex techniques or strategies.
Slot machines contain random number generators that can create thousands of numbers each second, each of which corresponds to a different symbol combination. The random number created at the same moment you initiate each play determines whether you win or lose. If the symbols revealed match on an active payline, you win!
Want to know more about slots? Click here.
2. Poker
Poker has existed for many years, even before casinos were first established. The game is worth playing because it is a very exciting social activity you can play with other people. Unlike the simple gameplay of slots, poker is more interesting, but you'll need some techniques in order to win. Because of this, it is also said that poker can improve a person's learning, mathematical, social skills, and patience.
Poker games in casinos often come with a high payout percentage that is very appealing for gamblers that are looking for a game to play and gain money back from. And when playing poker online, you won't have to worry about your poker face!
Want to know more about poker? Click here.
3. Bingo
If there's one game that has significantly improved over the years, it's bingo. It's no longer the traditional game that only older people enjoy whenever they are bored or want to socialise with friends. At online casinos, you'll be able to play bingo with people from all over the world and chat with them too. Bingo is prevalent in online casinos even today since the game's rules are simple and offer many opportunities to win. To add to the popularity, online casinos also sometimes give exciting rewards and bonuses exclusively on their bingo games.
Want to know more about bingo? Click here.
4. Roulette
If you're a beginner at online casinos, roulette can be your go-to game aside from slots and bingo. It is very easy to play because it doesn't have a long list of rules to remember, like those of poker and baccarat. Also, you can't be disadvantaged even if you're a new player and you're playing roulette with experienced players as your winning percentage will just be the same as theirs – purely based on luck.
Want to know more about roulette? Click here.
5. Baccarat
Contrary to popular belief, baccarat is one of the easiest card games for beginners to play. Baccarat is similar to blackjack in that the game has a dealer and a banker. There are many distinct types of baccarat, but the goal is always the same and the rules will only differ slightly. Bet on who will be the winner of the round – the dealer or the banker – and see as the game unfolds.
6. Blackjack
Unlike at land-based casinos, you never have to wait in line for a table in blackjack when playing online. Online casinos offer virtual games that always have tables ready for players. For gamblers who love excitement and a real adrenaline rush, blackjack is the ideal game. The game is very fast-paced and also requires some skills to beat the dealer.
7. Online Craps
Because most online casino games rely on luck, online craps have grown in popularity as a result of its favorable odds. You don't need any skill to win this game; all you have to do is pick up and toss the dice, and you can win based on what you roll – or what you bet on the shooter to roll.
8. Sic Bo
Sic Bo is a simple and enjoyable game to play if you have the necessary abilities and funds. In Sic Bo, the only thing you'll do is guess the value of three dice. The outcome will be known immediately after the dice are shaken.
9. Keno
For gamblers who don't want to play based on skills, Keno is a good game to start your gambling career. Though it is a good game, it is somewhat underrated. The game is purely controlled by luck and therefore something anyone can enjoy no matter your skill level. Think of the game as a mix of bingo and lottery, with random numbers being drawn. Hopefully, they will match the number on your card(s)…
10. Casino War
Casino war might be the easiest game you will ever find at an online casino. Most gamblers will surely love the fast pace of the game, with its back-and-forth nature, and the possibility to win 10 to 1 in a war if you throw caution to the wind and give it a shot.
Are you interested to know more about different games and casinos? Check out all the casino games online now!