The Biggest Casino Wins of All Time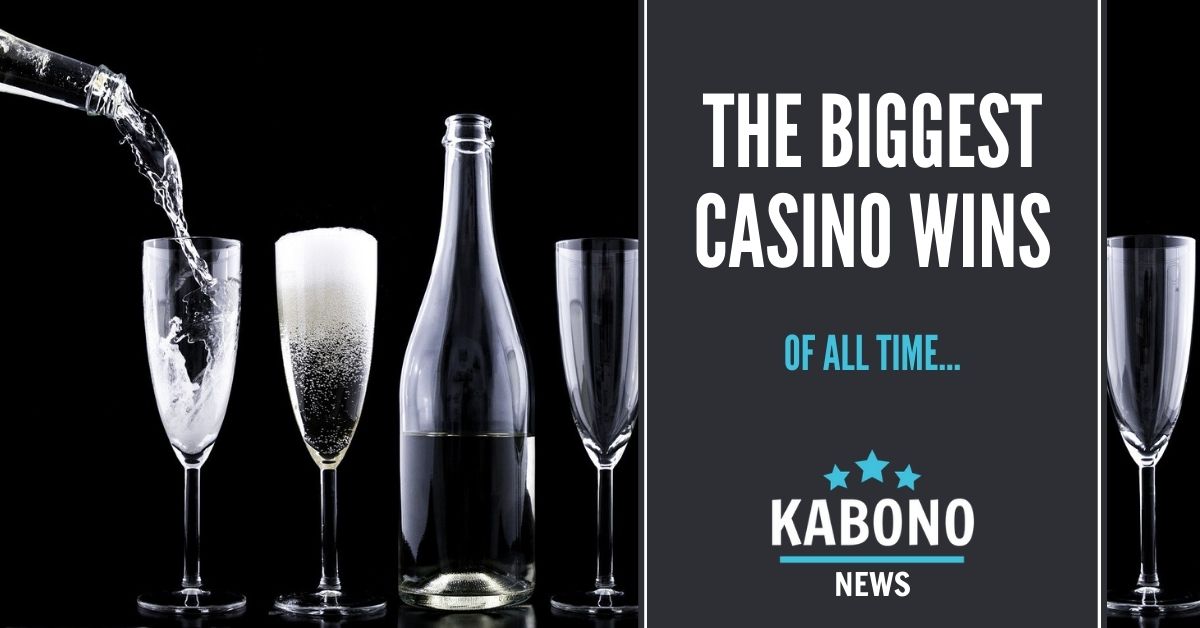 At Kabono, we're like anyone else. We catch ourselves dreaming about massive wins at casinos. Be it an online casino or a landbased casino, the idea of cashing in the jackpot is something that has crossed our minds more than twice.
In this article, we will take a close look at the biggest and grandest wins ever brought home from a casino. We'll look at the world record wins, the biggest wins in online casinos, the biggest wins in landbased casinos and massive jackpots. To round it up, we'll also give you some tips if you were to be the lucky winner of a massive jackpot – without losing your mind.
Let's go!
---
Biggest Casino Win in History
If we don't count the Powerball lottery (it doesn't really count, does it?), the biggest casino win took place back in 1992. This was in, you guessed it, Las Vegas. The lucky winner's name is Archie Karas. After losing $2 million on poker in LA, he went to Las Vegas with only $50 left. He borrowed money from a friend and went on a 3-year winning streak where he allegedly took home $40 million. Eventually, as you would expect, his luck ran out and he lost it all. He was banned from all casinos in Las Vegas and Nevada for life.
If you're still thinking about that Powerball lottery, the largest win was a whopping $500 million. But it doesn't count.
The Biggest Online Casino Wins
Although the world record in online casinos doesn't come close to Archie's $40 million, the records we're gonna look at below were won in one jackpot, and not over a longer winning streak. Let's look at some grand jackpot wins, that come from som world-breaking jackpot slots!
Grand Mondial Casino – €18.9 million – Mega Moolah
The current world-record holder is an anonymous player who won the infamous progressive jackpot at Microgaming's Mega Moolah slot. The lucky winner hit the jackpot from a 75 cent bet at Grand Mondial Casino.
Source: Microgaming.co.uk
Betway Casino – €17.9 million – Mega Moolah
Before the 2018 win, the world's highest online jackpot was won back in 2015. The jackpot was won by the UK player Jon Heywood, who won a whopping £13,213,838.68! And with that win, the Mega Moolah slot made it into the Guinness World Record book for the largest jackpot payout in an online slot machine game.
Source: Microgaming.co.uk
Paf Casino – €17.8 million – Mega Fortune
Another high-paying jackpot slot is NetEnt's Mega Fortune. In 2013, a lucky Finnish player won €17,861,800 from a simple 25 cent bet at Paf Casino. The winner chose to stay anonymous but kept the record for the highest win at an online slot for a long time.
Biggest Casino Wins in a Landbased Casino
While the online casinos might get the most attention these days, it is important to remember that landbased casinos can pay out humongous sums too. And while you think that only happens in Las Vegas, that couldn't be further from the truth! Don't forget that we have some grand casinos here in Europe and the UK too…
Fifty London Casino – £1.3 million – Roulette – Mike Ashley
In May 2008, a rich man became even richer at this London casino. Billionaire Mike Ashley went to the roulette table and bet on a single number: 17. As luck had it, 17 was the winning number and Mike could walk home with an additional £1.3 million in his pocket. This seven-figure win, among others, actually ended up bankrupting the casino which had to close its doors in 2009.
Mountaineer Casino and Resort – £2.9 million – Golden Chambers
Another grand winner was Beverly Whitten, who back in 2006 walked into the Mountaineer Casino and Resort in Chester. After spending two hours at the landbased slot game Golden Chambers, she could happily walk home with $3.7 million (£2.9 million) in winnings. To cover her newly retired lifestyle, the money was paid out in monthly instalments by the casino.
MGM Grand – £31 million – Blackjack and Baccarat – Kerry Packer
While this grand prize was won after a night on the town in Las Vegas, we wanted to include it as a final kicker. Not only because the player, Kerry Packer, ended up winning up to $40 million (£31 million) from playing baccarat and blackjack. But mainly because this Australian gentleman – after tipping his waitress at MGM $1 million – later ended up in a London casino where he lost $28 million (£22 million). Not all UK casino stories are of winners, but there can be no soarer loser than this bloke.
Highest Jackpots Paid Out on Slots
As already mentioned, the Guinness World Record of largest jackpot payout in an online slot machine game is currently held by Microgaming's Mega Moolah. From the initial jackpot of €17.9 million in 2015 to the €18. 9million win in 2018, no other jackpot slot has beaten the jackpot payout of this million-maker just yet.
But there are many other, grand progressive jackpot games out there – all waiting to pay out some grand prizes. Some of our favourite jackpot slots include Mega Fortune from NetEnt and Jackpot Giant from Playtech. 
Biggest Casino Win in the UK
Reading about big wins is all fun and games, but it doesn't feel as "reel" reading about a poker winner in Las Vegas as the bloke from down your street. Therefore, we wanted to bring up some of the biggest casino wins in the UK specifically.
Not to keep referring to the same jackpot wins over and over, because there are certainly more to choose from (which we'll get back to). But the first, Guinness Record worthy jackpot win paid out at an online casino was actually won by a Brit. The €17.9 million (£13.2 million) from 2015 was won by a lucky player from Cheshire in the UK. And more have been won in the five years since then!
2015: £13.2 million won on Mega Moolah
2016: £7.1 million won on Mega Moolah
2017: £6.3 million won on Hall of Gods
2018: £4 million won on Mega Fortune Dreams
2019: £3 million won on Mega Fortune
And these are just a few random examples of winners from the UK who got lucky. These selected few are five out of many British players who have won from online jackpot slots, bingo, poker and more. And with that in mind, who's to say you're not next?
What Happens if You Win Big at a Casino
So let's say you end up with one of these big casino wins. You log in to your account, open a game, bet a simple 50p or £1 and start playing. Maybe the reels are spinning, maybe the bingo balls are rolling, or maybe the poker cards are being dealt. And then, suddenly, you see it: It is flashing all over your screen, "You just won the big one!". What happens next?
First of all, you can expect to be contacted by the website or casino you are playing at. They will be notified of this big win and will most probably call you up to both congratulate you and go through the next steps. It is also likely that if you were playing on a jackpot slot or similar, the game provider will contact you or at least the casino you were playing at.
The game provider will issue a press release of the win, where you can normally choose if you would like to stay anonymous or give your details.
Some other important things to note:
All casinos will require a KYC (know your customer) check in order to confirm your identity before you can request any withdrawal.
If the big win was won using bonus money at an online casino, you will need to meet the wagering requirements of the bonus.
Some online casinos and/or payment methods will have a withdrawal limit meaning you can't cash out the full price at once.
Best Way to Deal With a Large Casino Win
It might sound overwhelming to grasp through what happens when you win big at an online casino, and that is just the very beginning! Once the formalities are completed, the fun part comes next: You will get to cash out and enjoy your winnings.
Of course, when winning a large amount of money (let's say £500 000 or more), it is important to not let it go to your head. There are many stories of those who won big and then lost even bigger. Therefore, it is important to be sensible with how to spend your winnings.
In the end, it is up to you what you want to do with the money. Save, invest, start a business, travel the world or play more. Just remember to act responsibly and to cherish it!