UK Gambling in Numbers – Latest Casino Statistics and Infographics 2020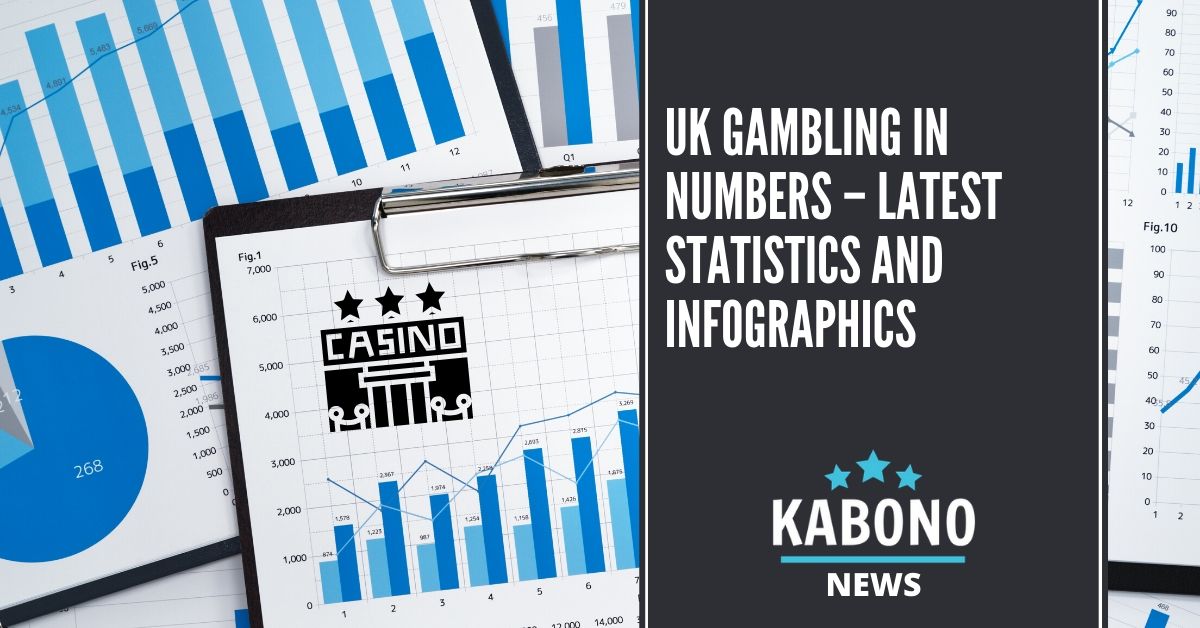 Twice a year – in May and November – the UKGC publish the latest information on the sectors it regulates. In this news article, we take a look at the most interesting casino statistics and also explain them in some easy-to-read (and share) infographics.
The Latest Numbers from UKGC
On May 28th 2020, the United Kingdom Gambling Commission published the latest industry statistics for UK gambling. These newest numbers cover the time period between October 2018 and September 2019. This means that the most updated numbers do not cover the COVID-19 period in which we've seen a mixed growth and decline in various sectors of online gambling.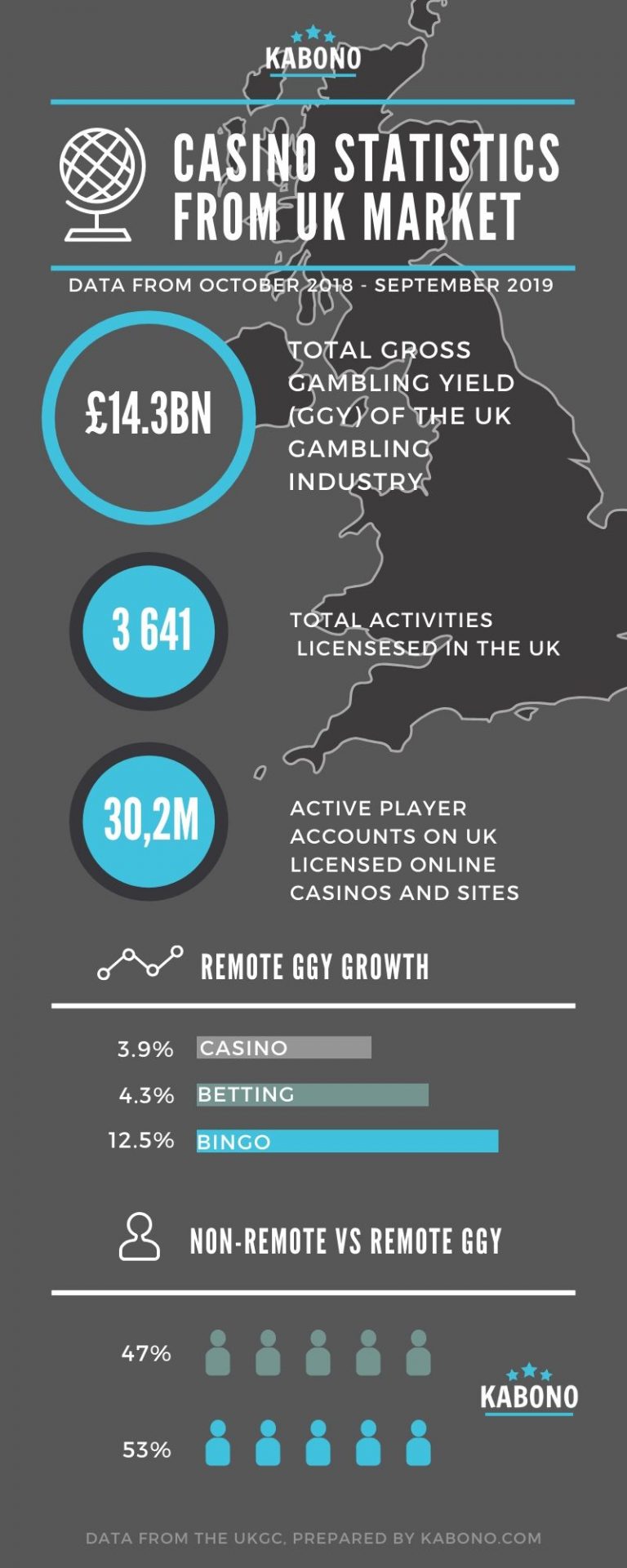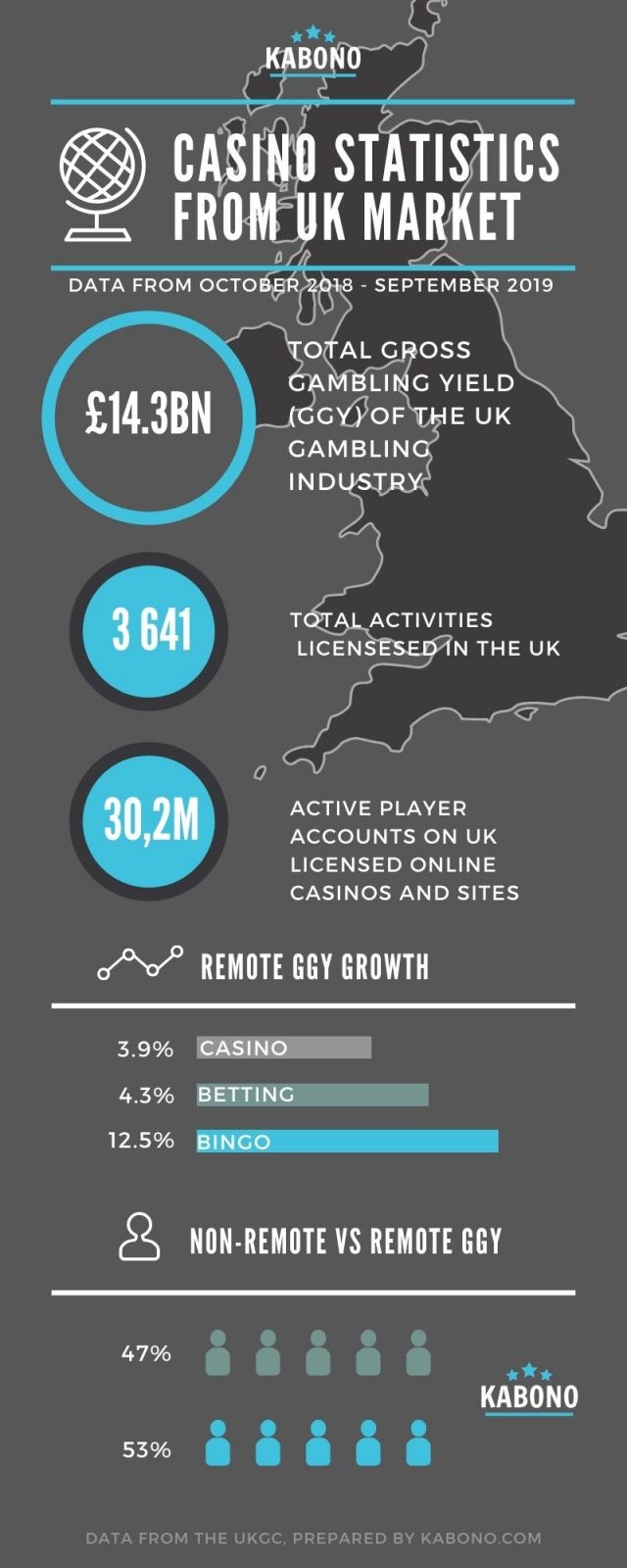 What are the Numbers Showing?
Some key points from the May 2020 statistics include:
The total gross gambling yield (GGY) saw a 0.5% decrease from April 2018 to March 2019, with a total of £14.3 billion
There were 3.641 UK licenses issued by the UKGC during this period.
The total number of active accounts at UKGC licensed facilities was 30.2 million
The total GGY for remote betting was £2.1 billion while the GGY for remote casino was £3.2 billion, with a 4.3% increase and a 3.9% increase respectively. Remote bingo saw an 12.5% increase with £198 million
Excluding lotteries, the total gross gambling yield (GGY) of the gambling industry in Great Britain was £10.5 billion, with a 1.9% decrease from April 2018 to March 2019. The GGY by sector is 47% on non-remote companies and 53% on remote companies.
The full report focuses on betting both remote and non-remote. Non-remote companies are for online casinos and sports betting sites. We focus on the statistics related to UK online casinos and sportsbooks.
How are the Statistics Gathered?
The UKGC regulates all legal gambling (online and offline) of the United Kingdom. They collect data from various sources and lotteries for these statistics. This includes statistics from all gaming, sports betting and lottery license holders. Betting license holders submit quarterly or annual reports, depending on the size of the company.
Following this, the UKGC will publish the next industry statistic on November 26 2020. It will then be interesting to see the real impact of the Coronavirus and tighter measurements on UK gambling.
If you appreciate our infographics and stats, feel free to share this post or infographic!